It was, no day without wearing jeans.
In fact, most people working in creative fields, fashion jeans are also a daily office.
Although using the same denim material, jeans have been developed with a variety of shapes and designs, to suit the tastes and needs of its users.
For you, 6 types of jeans can be held to be worn in different situations.
1. Boot-Cut
Boot-cut jeans models including classic and can be used at any time.
This model extends from the calf down, making it suitable for a wide hips for balance wide hips with wide leg pants.
Wear a pair of high heels, then you can dress up with these jeans.
2. High-Waist
80s and 90s, high-waisted pants worn by anyone.
But not in this era of the 2000s.
High-waist jeans into a fashion-forward alternative, because not everyone dare to wear.
You can show off in jeans belt, as long tops are usually only up to the waist, or tucked into pants.
Flat shoes or high heels (to give the impression of more height) can be used.
3. Straight-Leg
This model also includes classic and versatile, with a standard width of a pair of 43 cm.
If you wear jeans dark, you can wear tops that more neatly.
While the jeans with a color that gives the impression of a younger more relaxed.
4. Boyfriend Jeans
The use of this jeans popularized by Katie Holmes, who a few months ago had appeared several times in public wearing jeans for men.
This gives the impression of casual jeans with a rip-rupture models, and with a rolled-up pants legs.
You can wear it in a casual atmosphere, with flat tops and shoes are feminine.
5. Skinny
Since Nicole Richie popularized a few years ago, skinny jeans are still found in many clothing stores.
Unfortunately, skinny jeans can be worn by the slim-hipped, and less can be worn on formal occasions.
Wear high boots or flat shoes during the day, or platform shoes in the evening.
6. Trouser
Jeans are also classified as a classic, with a flat front detail.
Because the model is quite tidy and simple, you can wear to the office.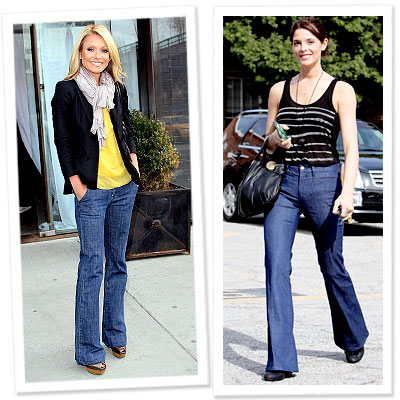 (by: female.kompas.com)